Highlighted
Mark as New

Bookmark

Subscribe

Email to a Friend
My internet speeds seem to be getting slower all the time, this is the latest test: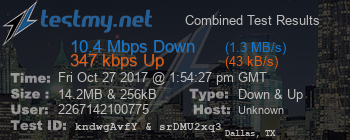 This is the average of several tests I have run, anybody else experiencing slow speeds?
Mark as New

Bookmark

Subscribe

Email to a Friend
Another test a few hours later and it is still slow. I regret leaving Excede/Wildblue, I have had other issues with Hughes as well.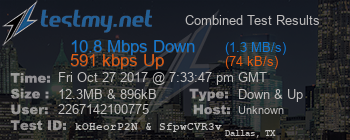 Highlighted
Associate Professor
Mark as New

Bookmark

Subscribe

Email to a Friend
To help the Hughesnet Customer Service Reps get a head start on your speed concerns, you should create a testmy.net account and perform 3-5 tests during different parts of the day. Then share the account results link with us here.

Please keep in mind that Hughesnet will only accept testmy.net and the official Hughesnet speed test results. Tests from other sites like speedtest.net are not accepted due to the compression technologies and latency that satellite deploys.

Most important points to remember during this test:
-do the tests while directly connected to the HughesNet modem with a LAN cable (NO third party Router or Wireless devices can be used)
-use the 25MB size download test file ONLY (Other sizes can not be accepted)
-If testing upload instead of download, you must use a 4MB size upload test file
-space each test at least 5 minutes apart
-post your results URL here, it may look something like http://testmy.net/quickstats/C0RR0SIVE

For a more in depth guide on running the tests, please visit: http://customer.kb.hughesnet.com/Pages/7001.aspx

The Reps are on M-F from approximately 8AM to 5PM Eastern. They will be the ones to address your speed issues, but they will need these tests to do so.
Highlighted
Mark as New

Bookmark

Subscribe

Email to a Friend
I am so sorry I switched to Hughes, the service is inconsistent and unreliable!! Wildblue/Excede is much better with more consistent performance.
Highlighted
Moderator
Mark as New

Bookmark

Subscribe

Email to a Friend
Good morning Tim,
Thank you for posting and sharing your speed test results. We'll include this with the other complaints we've been escalating to engineering. Engineering is working to address speed concerns, and once we have any updates to share, I'll let you know.
Your patience and understanding are much appreciated.
If you have a tech or billing question and need help, please start a new thread in the appropriate board. Unsolicited Private Messages may not get replies.


Highlighted
New Member
Mark as New

Bookmark

Subscribe

Email to a Friend
My internet has been slow since it was installed. Already escalated to engineering haven't heard a word, even though they said they will call within 48 hours. My results are: unfortunatley they will not allow us to go back to GEN 4 which I didn't have a problem with. Paying 73.00 a month, we shouldn't be paying anything as slow as this is. I'm going to be looking at a reduction.