New Poster
Mark as New

Bookmark

Subscribe

Email to a Friend
I have just switched to Gen5 from Gen4 8 days ago primarily for the increased data allowance from 10GB to 20GB. I normally use slightly over 10 GB per month with Gen4 so I thought this would eliminate my need to ever buy tokens again.... HOWEVER, without any change in usage of the internet they claim I have used 78% of my 20GB monthly allowance in less than 9 days! Hughesnet, inexplicably to me, is trying to blame the fact that I am using my pre-existing router instead of their new built-in router and that is using up data, despite the fact that it is the exact same setup I had before Gen5 with no new devices connected to either wifi. Their attitude was "Oh Well," throw out you pre-existing router and go out and spend another $60 for a range extender so I can access the Hughesnet WiFi at my distant location within my house and everything will be OK. This doesn't seem logical to me... Something else is going on and if I continue using Gen5 the exact same way as I used Gen4, I will have to authorize 4 times higher data allowance fees vs what I used with Gen4. I am beyond frustrated and disappointed. I never expected Gen5 would cost me ever so much more in data allowance required to use the internet the exact same way I did with Gen4... Comments?
Mark as New

Bookmark

Subscribe

Email to a Friend
I also just got Gen 5 too and I have a router and the wifi modem -- I can connect through the router or through the wifi modem; the installer left both and said I could use either. Both work the same for me, and I haven't had any data drainage. My data gets used at the same rate as before. Have you tried any kind of troubleshooting, like temporarily disconnecting your router to see if that makes a difference?
Associate Professor
Mark as New

Bookmark

Subscribe

Email to a Friend
You use Win10? If so, they are pushing a rather large update out over the course of time to computers... The more Win10 devices the more data used.


Please perform the following test outlined in the graphic below, this is known as an isolation test and will help determine whether the issue is with Hughesnet or your local network.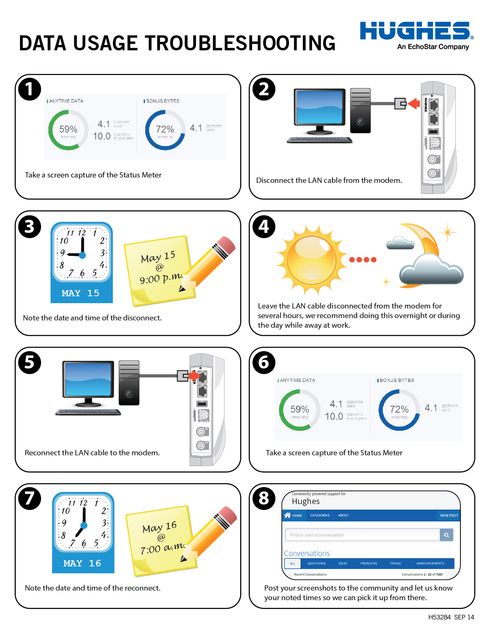 1: Take a screen capture of the Status Meter
2: Disconnect the LAN cable from the modem. If on the HT2000w, please disable wifi as well.
3: Note the date and time of the disconnect, it is best when doing step two, to also capture the time displayed on your screen.
4: Leave the LAN cable disconnected from the modem for several hours, Hughesnet recommends doing this overnight, or during the day while at work.
5: Reconnect the LAN cable to the modem.
6&7: Take a screen capture of the Status Meter with the clock displayed on your computer.
8: Post your screenshots to the community.

Please be aware, if you downloaded any large files just prior to this test, or if the disconnect was for an extensive time period, some usage may appear to have occured, but should be rather negligible.


Mark as New

Bookmark

Subscribe

Email to a Friend
I got the Creators Update for Win 10 and while it took hours, the actual data used was surprisingly low.
:

:

:

Data Usage and Gen5