New Member
Mark as New

Bookmark

Subscribe

Email to a Friend
Speed Test Results - GEN5
We are new customers since Apr 2018. Just purchased a new laptop running W10 for our remote location, replaced a 7 yr old Toshiba running W7. I knew speeds were not what was promised/advertised, (25mbps download) but thought the new computer would help. Evidently not, and I am suffering with needing to download a lot of new files (updates, software, etc) unfortunately required on a new machine.
New results on Testmy.net:
https://testmy.net/db/1zWKcunZM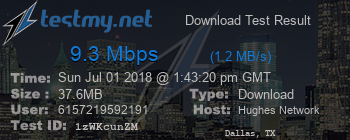 Distinguished Professor IV
Mark as New

Bookmark

Subscribe

Email to a Friend
Re: Speed Test Results - GEN5
Sorry you're having speed issues. In order for the reps to help with speed issues they need some speed test results, and the tests need to be run in a specific way. The protocol for the speed tests is as follows....
To help the HughesNet Customer Service Reps get a head start on your speed concerns, please create a testmy.net account (if you do not already have one) and, while signed into that account, perform 3-5 tests during different parts of the day, then share the account results link with us here.

Most important points to remember during this test:
-do the tests while directly connected to the HughesNet modem with a LAN cable (NO third party Router or Wireless devices can be used)
-disable the WiFi while the speed tests are being performed
-use the manual 25MB size download test file
-If testing upload instead of download, please use the manual 4MB size upload test file
-space each test at least 5 minutes apart
-post your testmy results URL here, it may look something like http://testmy.net/quickstats/yourusername

For a more in depth guide on running the tests, please visit: http://customer.kb.hughesnet.com/Pages/7001.aspx (please be sure to use the updated test sizes listed above and not the test sizes listed on the page in this link).

The Reps are on M-F from approximately 8AM to 5PM Eastern. They will be the ones to address your speed issues, but they will need these tests to do so.
If you are unaware of how to disable the WiFi in the HT2000W, please see "How do I manage my built in WiFi modem?" in this PDF.

AMD FX-6100 | Samsung 250GB 840 EVO SSD | Western Digital Blue 500GB HDD | 16GB DDR3-1866 | EVGA Geforce GTX 550ti | Windows 10 Pro 64-bit
:

:

:

Speed Test Results - GEN5